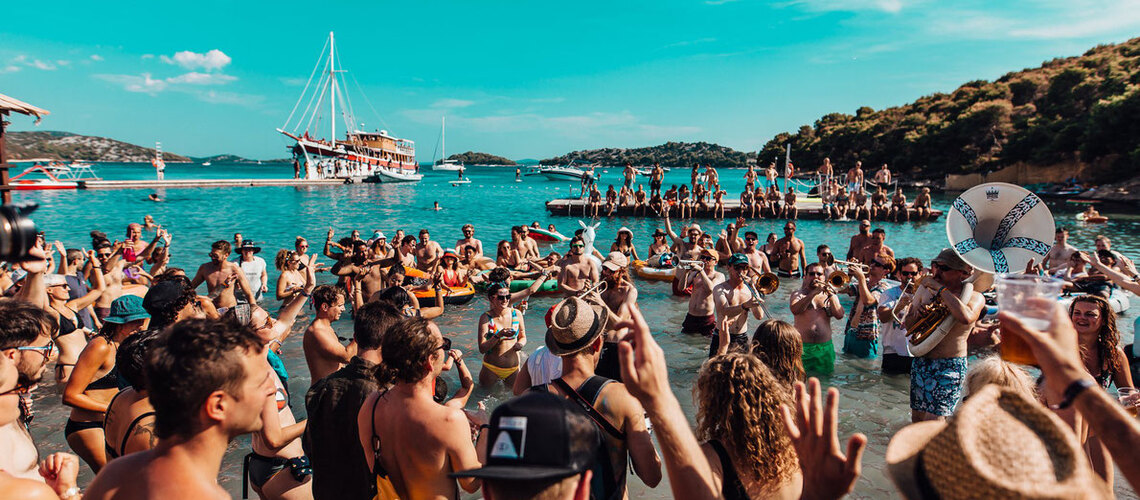 Now one of Europe's prime festival hotspots, Croatia is the place to go to combine sun, sea and music. From its beautiful beaches to scenic backdrops, it has everything you could want out of a summer holiday.
Croatia's music festivals don't disappoint either. At the front of the pack you have the dance trio of Ultra Europe, Hideout and Sonus, who keep bringing huge lineups of house, techno and EDM to the country each summer. This list brings to you 10 music festivals that you gotta know in 2020.
10 – 12 July
Mladeži Park, Split
Ultra Europe is a multi-venue outdoor electronic music festival that is a part of Ultra worldwide expansion, which has now spread to twenty countries. Ultra Europe made its debut in 2013, and took place in Split.
The main festival takes place inside Split's Mladeži park, performing under Ultra's characteristic production, featuring almighty firework displays, smoke cannons and more.
Beyond the park, Ultra Europe also hosts a selection of other parties in what is known as Destination Ultra, including Ultra Beach on the island of Hvar, a Regatta beach party on Brač and a number of parties hosted by Resistance inside beach clubs and fortresses.
Join this year's big celebration and dance to the beats with Afrojack, Armin van Buuren, David Guetta, DJ Snake, Galantis, Marshmello, Pendulum – TRINITY, Steve Aoki and so many more.
https://www.festivall-app.com/festivals/ultra-europe
Tickets: https://bit.ly/39E7ilD
6 – 12 August
The Garden Resort, Tisno
After four amazing years, Defected returns to the idyllic corner of Croatia's Adriatic coast in August. Once again, there will be an array of main stage house superstars and disco icons, joined by underground heroes on the beach stage and boat parties, all making for a truly unique outdoor clubbing experience. Combined with delicious food and a chance to genuinely relax with the well-being programme, you might discover the perfect holiday spot.
Regarded as one of Croatia's hidden dance gems, Defected brings together just a few thousand party goers each August to dance aside clear blue waters, secluded woodland and stunning beaches, all in the company of some of our favourite artists.
Next edition artists include Gorgon City, Breakbot, Mousse T., Nightmares on Wax, Offaiah, Mike Dunn, Roberto Surace, Armand van Helden amongst many more.
https://www.festivall-app.com/festivals/defected-croatia
Tickets: https://bit.ly/3aJSz95
30 July – 4 August
The Garden Resort, Tisno
Since its 2008 inception Outlook is Croatia's biggest bass music festival, featuring the sounds of dubstep, dub, reggae, drum and bass, jungle, UKG and grime.
Outlook started as a subsidiary of Leeds event SubDub, hosting all kinds of bass music. Although held in Croatia, many of the attendees come from the United Kingdom as do much of the team involved in organizing the festival.
After its final edition at Pula's Fort Punta Christo and its 2000-year-old Roman amphitheatre, Outlook has revealed it'll be moving onto Tisno's Garden resort for 2020's festival (now called Outlook Origins) to celebrate the artists, labels, parties and genres that have been integral in driving sound system culture forward. Late night action will take place at Barbarellas discotheque.
To help curate the 2020 line-up is a careful selection of the most influential artists and tastemakers in the scene to ensure that sounds of the festival remain underground. The curators selected include Calibre, D Double E, Flava D, Goldie, Mala, Mungo's Hi Fi and Zed Bias. The festival also hosts boat parties which feature artists from the festival and sail around the Adriatic coastline playing more individual selections of music.
Amongst this editions performers are D Double E, Goldie, Shy FX, dBridge, Flava D, Mungo's Hi Fi, P Money and many others.
https://www.festivall-app.com/festivals/outlook-origins
Tickets: https://bit.ly/3cE5Lhv
16 – 21 August
Zrce Beach, Novalja
International headliners and local heroes, underground super stars and new-comers. These are the minds and hearts who constitute Sonus Festival, that every year gather more than 70 artists to create perfect sun-downer parties, incredible techno raves or laid-back house parties.
Imagine finding yourself in a small island just off the coast of Croatia. Zrce beach on Pag Island, is one of the most amazing spots in the Adriatic Sea. The coast dazzles with shimmering bays, exceptionally clear water and some of the most secluded little beaches you will ever discover.
Imagine your favourite artists playing open air, just a few steps away from the beach. Imagine taking a dip in the crystal clear Adriatic sea in between parties. Sounds like a dream? Well, at Sonus it all comes true: Your cool summer rave adventure happens right on the shores of Pag. Also spread over clubs and with plenty of pre-parties, after shows and boat parties, it promises an unforgettable time.
Dixon, FISHER, Amelie Lens, Charlotte de Witte, Richie Hawtin, Seth Troxler, Patrick Topping, Maceo Plex, Sven Väth and many, many more will all head to sunkissed Croatian shores next summer for the eighth edition of Sonus Festival.
https://www.festivall-app.com/festivals/sonus
Tickets: https://bit.ly/2TyW502
21 – 25 June
Zrce Beach, Novalja
Hideout Festival is a 5 day electronic music festival that brings together beach vibes, boat parties, pool parties, exclusive headline shows in 5 open air venues, and the most respected electronic artists of 2020. It is held annualy in Zrce, Croatia on the island of Pag. The first festival was in 2011, and landed on The Guardian's list of the best European festivals of 2011, and since then, has sold out every year to date.
The event is split between pool parties in the day and headline performances at night, both of which take place in Zrce's open-air venues along the beach. There's also a number of boat parties that sail from Novalja port out onto the Adriatic.
Gorgon City, Chase & Status, Fisher, Mark Knight, Chris Lorenzo, Dimension, Mk, Shy Fx, Patrick Topping, Camelphat, Alan Fitzpatrick and Sonny Fodera are some of the artists that will spice up the Adriatic vibes this summer.
https://www.festivall-app.com/festivals/hideout
Tickets: https://bit.ly/2IAidkl
22 - 24 June
Lake Jarun, Zagreb
INmusic festival is Croatia's biggest international contemporary music open-air festival. The festival is held annually in late June in Zagreb and takes place on the Isle of Youth in the middle of Zagreb's Lake Jarun. The festival was started in 2006 and is usually held over three days. It includes several genre-specific stages with internationally renowned indie rock, heavy metal and electronica artists. In 2008 The Times included INmusic among the top 20 European summer festivals.
What's great about this festival is the ease in which it can be reached, both in terms of Zagreb and the festival site itself. Croatia's capital city is just a two-hour flight away from the UK, and there's a few airlines that operate direct flights between the two countries. There are also great air, bus and train connections to Zagreb from elsewhere in Europe.
There's a heap of very exciting names that have already been announced for INmusic 2020 – no more so than headliners The Killers! Other acts that have so far been announced include Beck, The Lumineers and Deftones.
https://www.festivall-app.com/festivals/inmusic
Tickets: https://bit.ly/3cU90l4
13 – 18 August
The Garden Resort, Tisno
The "little sister" of the well-established Outlook – put on by the same team – returns for 2020, now in its ninth year! And, like its big sister, Dimensions Festival will also be moving to Tisno for this year, and taking place several weeks earlier in the calendar as well.
Acts performing at the 2020 festival have already been announced; names on the bill include DJ Assault, Darwin, John Gomez, Lokier, Pearson Sound, Truly Madly and more. Check out the line-up page for all the latest news.
Back in Pula, Dimensions used to have an opening night concert held in the Arena (the stunning amphitheatre in the centre of the town). Here in Dalmatia, Dimensions will be doing the same! Held in the stunning location of the cliff-top St Michael's Fortress in Sibenik, the opening night concert will feature Floating Points (live) with other names to be announced.
https://www.festivall-app.com/festivals/dimensions
Tickets: https://bit.ly/2Q2jRPV
4 – 11 July
Zrće Beach, Novalja
You might already know what it is. They've been kickin' it with top Hip-Hop, RnB and Afrobeat artists for years now. Big shout out to past Fresh Island acts such as Wiz Khalifa, Burna Boy, Young Thug, Chris Brown, Migos, ASAP Rocky, Rae Sremmurd, Snoop Dogg, Stormzy, Giggs and many others.
Come join and party in a few of the World's best open air clubs according to DJ Mag. From pool parties to headliner events, these clubs offer the best of the best when it comes to table service, cocktails, bars and most of all, vibes.
This year lineup will count with the grooves of DaBaby, WizKid, Faded, Dj S Dot, Panache amongst many others.
https://www.festivall-app.com/festivals/fresh-island
Tickets: https://bit.ly/38BBYmb
10 – 14 August
Zrće Beach, Novalja
The 2020 edition sees no less than the tenth instalment of Barrakud. Back to its usual location of the clubs of Zrce Beach near Novalja on the island of Pag, this festival is definitely the one for you if you like all things techno. Five days of blistering techno across Papaya, Aquarius, Kalypso and Noa Beach clubs.
Alongside the open-air club parties, Barrakud also hosts a boat party on the beautiful Adriatic sea, giving techno fans days and nights of pure hedonism in the company of some of their favourite DJs.
The festival has yet to announce its line-up for this year, so watch the updates… Last year saw names such as Paul Kalkbrenner, Bowland, Ellen Allien, Fjaak, Marco Faraone and Gladis on the bill.
https://www.festivall-app.com/festivals/barrakud
Tickets: https://bit.ly/2IuuSpb
18 – 25 July
Zrće Beach, Novalja
Austria Goes Zrce is a week-long electronic, pop, and urban music festival that takes place across the acclaimed clubs of Croatia's Zrce Beach.
Branching out from their electronic-based roster, 2020 will see an impressive lineup of both domestic and international fame spanning a myriad of genres; Austrian hip hop icon RAF Camora has been announced to headline, alongside revealing that these run of dates will be the final live performances of his career.
With a reputation matching party mecca Ibiza, and further announcements revealing contemporary dance music icons, expect another glorious week of like relentless partying.
Artists playing this year include Bausa, Steve Aoki, Loredana, Will Sparks, Mathea and many others.
https://www.festivall-app.com/festivals/austria-goes-zrce
Tickets: https://bit.ly/2TQujuZ