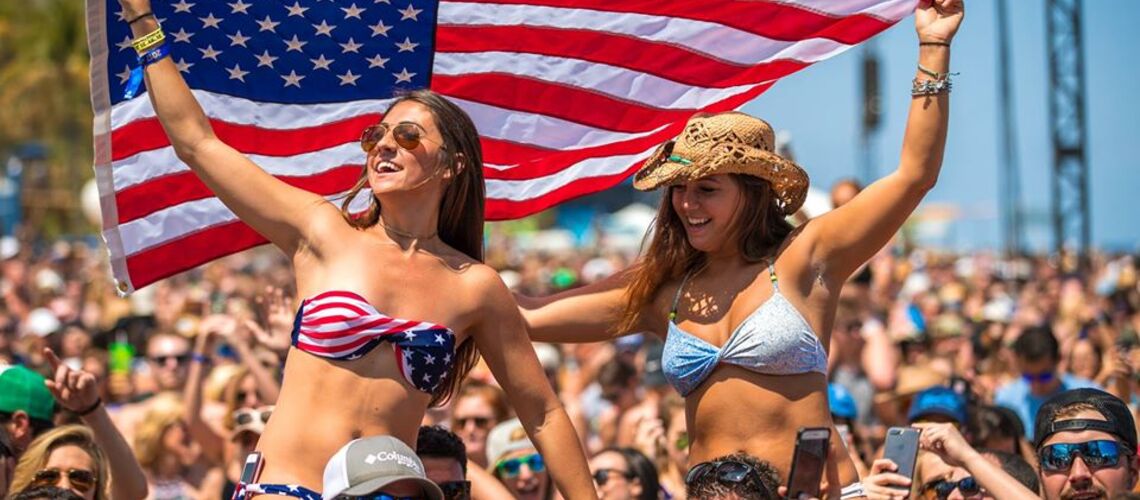 Spring break is the time for all the college students to relax and gather strength for the next semester, and what better way than to indulge yourself in dancing and partying on an amazing music festival! Here's a list of the festivals we believe will offer you great time, either for yourself or for you and your friends and family. We monitor closely cases of festivals being cancelled due to coronavirus cause disease, covid-19. Latest update: March 13
20 - 21 March 2020, postponed due to coronavirus for June 19-20th 2020.
Beyond Wonderland is an electronic dance music festival organized by Insomniac Events., takes place at the NOS Events Center in San Bernardino, California. Beyond currently features six stages of electronic dance music artists with such genres as house, trance, dubstep, drum & bass, and hardstyle. The festival is also known for its cutting-edge stage production, many art installations, and an array of dancers and performers.
Beyond Wonderland continues to tell the tale of Alice and her adventures in this psychedelic storybook. The festival is known for features such as a light maze, many modern art sculptures, and poi dancers. As the festival continues to grow, new interactive additions are added each year to help enhance the experience, such as various dancing characters and aesthetic decorations.
This year's line-up includes Alison Wonderland, Tiësto, Diplo, Diesel, Dillon Francis, Alan Walker, Seven Lions, Infected Mushroom, Benny Benassi and many more. See all the artists here:
https://www.festivall-app.com/festivals/beyond-wonderland
Tickets: https://bit.ly/336lX6E
25 - 29 March 2020, postponed due to coronavirus for September 23-27th 2020.
Treefort Music Fest is rock, punk, folk and electronic music festival that takes place in downtown Boise, Idaho. There's 500 bands on the 2020 lineup and hundreds of fort events, for which the organisers are recommending downloading their app. The app will help you to find the venues (there's 26 of them!), bookmark favorite artists, make a personalized schedule and share it with friends, and get real-time line updates for each venue during the festival. Conceived as an extension of the current momentum in the Boise music scene and art scene at large, organisers vision is that Treefort will provide the opportunity for the city of Boise to play host to the national and regional music scenes while showcasing the local up-and-coming talent.
The festival explores different art,music and expression forms with a concept of forts - Artfort (with live performances, mixed media installations), Dragfort (Queens, Kings, panels, workshops, ballroom performances), Filmfort (with movie screenings), Comedyfort (with comedians delivering live shows), Storyfort (where attendees can catch all podcasts coming to the festival), Hackfort (panels, workshops, and gatherings focused on all things emerging tech), Yogafort (with instructors and musicians), as well as Kidfort for kids and Alefort and Foodfort.
This year's line-up includes Ajj, Yob, Yumi Zouma, Snbrn, Haywyre, Summer Cannibals, Georgia, Grouplove, Omar Apollo, Fleetmac Wood, Luz Elena Mendoza & The Camas High School Choir, Le Shiv, Grupo Adiktos, Sharlese, Tejano Outlaw and many more. See all the artists here:
https://www.festivall-app.com/festivals/treefort
Tickets: https://bit.ly/2TC1O5i
14 - 15 March 2020 postponed due to coronavirus, date unknown.
Jazz in the Gardens is a jazz and R&B festival, held in Miami Gardens, Florida. Having 11 years of history under its belt, Jazz in the Gardens celebrates diversity, culture, and art through various genres of music. Event-goers find themselves entrenched in the rich beats and musical stylings that vibrate from the stage. The event not only brings world-renowned talent to Miami Gardens but it gives local artists the opportunity to be seen, heard and possibly discovered. Jazz in the Gardens (JITG) music festival has been deemed as the undeniable "travel destination for the spring." The JITG experience is complemented by scenic beaches, plentiful shopping, incredible golf courses, 5-star restaurants, and many other inviting attractions which make South Florida a "must visit" destination. The City of Miami Gardens and its partners are committed to producing an extraordinary experience.
This year's line-up includes Mary J. Blige, Kirk Franklin, Jill Scott, Charlie Wilson, Swv, Stokley, H.e.r., The Roots with Bilal and more. Check full line-up here:
https://www.festivall-app.com/festivals/jazz-in-the-gardens-music
Tickets: https://bit.ly/2ICM9N0
20 - 21 March 2020, postponed, future date unkown.
The Charleston Bluegrass Festival is a jazz, bluegrass and folk music festival, taking place in the Woodlands Nature Reserve, South Carolina. A family friendly Lowcountry camping event featuring three stages of national and regional bluegrass, outdoor recreation and a diverse selection of local food & beverage options.
Woodlands Nature Reserve is a privately owned nature reserve intended to be sustainably shared with the public. It's a magical place, boasting breathtaking views over freshwater lakes, and groves of old growth oak trees. You will be in awe when you see it first hand. In addition to an action packed music schedule, we urge you to take advantage of all that this venue has to offer. Featuring 11 freshwater lakes, a wetland swamp, and an abundance of natural beauty. The goal of Woodlands Nature Reserve is to both provide the public a unique experience in nature while protecting and enhancing wildlife habitat. Campers are welcome to bring bikes, kayaks, and stand up paddle boards. Portable restrooms are provided and hand wash stations. There are no showers or water. There's different camping options provided by the organisers.
The line-up includes Greensky Bluegrass, Yonder Mountain String Band, The Del McCoury Band, Sam Bush, Town Mountain, Pierce Edens, Cris Jacobs, Ghost Light and more. Check full line-up here: https://www.festivall-app.com/festivals/charleston-bluegrass
Tickets: https://bit.ly/2TW5z4n
Was scheduled for 18-21 March 2020, but is now cancelled due to coronavirus.
Afro Nation Puerto Rico is afrobeats, hip hop, r&b, dancehall, bashment and reggaeton festival, taking place on Balneario de Carolina in San Juan, Puerto Rico. Balneario de Carolina is one of many gorgeous beaches in Puerto Rico and is just a six-minute drive away from San Juan Luis Muñoz Marín International Airport.
Expect world-class programming of live performances and DJ sets over four days, and official after parties at Vivo Beach Club. You must have a festival ticket as well as an after party ticket to gain access to the after parties. Rich history and culture, exceptional food, pristine beaches, majestic mountains, relaxation, adventure – all packed into one incredible Caribbean paradise. Puerto Rico boasts 270 miles of stunning coastline around the island. With the USA's only tropical rainforest and an average daily temperature of 82 degrees Fahrenheit, it's clear why we've chosen this amazing location as the site for the first ever Afro Nation Puerto Rico. Puerto Rico is home to some of the best beaches in the Caribbean, the incredible Balneario de Carolina being award-winning Blue Flag beach.
This year's line-up includes Yemi Alade, Wizkid, Teni, Rick Ross, Naira Marley, Mavado, Machel Montano, Fabolous, Davido, Chronixx, Burna Boy, 2Baba. Check full line up here:
https://www.festivall-app.com/festivals/afro-nation-puerto-rico
Tickets : https://bit.ly/39KTdTK
10-12 April 2020, postponed, future date unkown.
Lucidity Festival 2020: Regeneration Earth is an open-source transformational arts and music festival in Live Oak Campground near Santa Barbara, California. Open-source means that the participants are invited to lead a workshop, spark a spontaneous flash mob, bring art. The lineup is world class of musical talent. On site you will experience the most brilliant fine art the region has to offer, enriching the festival as a visual voyage. Art installations pleasure participants with multi-sensory stimulation while themed environments create intimate settings for personal connections. Lucidity's environmental commitment is to leave Live Oak better than before.
Lucidity Festival LLC is a collectively owned organization dedicated to creating transformational experiences for individuals and communities; organisers are a production company, a creative lifestyle for expanding consciousness, and an interconnected community of friends and family. The festival has 7 core values - Participation and Immersion in the Artistic Process, Personal Growth and Global Healing, Awake and Aware Consciousness, Environmental and Social Responsibility, Family Fun and Creative Play Communal Reciprocity, Transparency. Low-Income Ticket Program allows people that normally wouldnt be able to afford the ticket, get it at reduced price. Theres 40 of them available.
The 2020 concept, called The New Story of Lucidity features Elemental Realms in place of the Archetypal Villages from the past 6 years. Rather than 7 Villages and a Lucid City, the New Story will showcase the 5 Elemental Realms of Water, Earth, Fire, Air, and Spirit. This years line up includes The Polish Ambassador, Russ Liquid, Yaima, Ayla Nereo, The Human Experience, Dirtwire, The California Honeydrops, Sumthin Sumthin, 9Lives, An-ten-nae, and many more. Check the full line-up here: https://www.festivall-app.com/festivals/lucidity
Tickets: https://bit.ly/2W2I9gu
3 April 2020, postponed due to coronavirus for 2-3rd October 2020.
Phoenix Lights is an electronic music festival organised by Relentless Beats taking place at The Park at Wild Horse Pass in Chandler, Arizona. The name comes from the sighting of UFO over Arizona, Nevada and Mexican state of Sonora in march 1997, and therefore it's theme is aliens, with multiple alien inspired art instalations. Heading into its sixth edition, every year the festival gets bigger and better. An immersive experience, Phoenix Lights transforms its home in The Park at Wild Horse into a surreal landscape full of otherworldly installations, performers, and top-tier stage production. Spreading an eclectic dance music lineup across four stages, the festival is anchored in EDM but reaches into the realms of techno, dubstep, and hip hop. This years lineup includes Afrojack, Alesso, Gryffin, Nghtmre, Eprom, Kayzo, Borgore, Solardo, Murda Beatz, and many more. Check out the full line-up here: https://www.festivall-app.com/festivals/phoenix-lights
Tickets: https://bit.ly/2VW4Gvw
9 - 12 April 2020, cancelled due to coronavirus.
The Viva Las Vegas Rockabilly Weekend is the largest and most respected Rockabilly festival in the world and is now the longest-running music festival in Las Vegas. Musically, Viva Las Vegas curates a lineup of rockabilly, 50s rock'n'roll, surf, doo wop, and old fashioned rhythm & blues. Events are held in 6 different music venues in The Orleans Hotel and Casino, as well as The Arena, Pool, and Car Show lot.
To accompany the music, the festival also features burlesque shows, one of the biggest classic car shows in America and tattoo booths. They pride themselves on having bands from all over the world, alongside rock and roll hall of fame recipients. There are also pin up shows, pool parties, dancing lessons and parties that will keep you dancing into the early morning. This year's line-up includes : Big Sandy & His Fly-Rite Boys, Mike Sanchez, The Starjays, The Firebirds, The Heartbreakers, The Lustre Kings, Lara Hope and The Ark-Tones, and more. Check out full line-up here : https://www.festivall-app.com/festivals/viva-las-vegas-rockabilly-weekend
Sales of tickets have been temporarily suspended due to coronavirus on March 11th.
17 - 19 April 2020 postponed due to coronavirus for 2-4th October 2020.
Rock the Ocean's Tortuga Music Festival is country, rock and roots music festival held on the white sands of Fort Lauderdale Beach Park in a beautiful oceanside setting, Tortuga Music Festival is a 3-day, multi-stage music festival featuring some of the biggest names in.
Founded by Rock The Ocean, the annual spring festival aims to raise awareness and support for ocean conservation. A portion of the ticket proceeds goes to charity, and as of 2019 over $1,200,000 has been raised for ocean conservation. The festival features multiple stages of live entertainment with a focus on country, rock and a variety of roots music. Each year, the festival features an area known as Conservation Village. The area holds interactive booths that contain games, exhibitions and displays with the focus of raising awareness of issues impacting the world's oceans and supporting marine research and conservation. The festival also aims to raise money to protect sea turtles that nest annually along South Florida's Atlantic seaboard.
This years line up includes Barenaked Ladies, Billy Curringtin, Chris Lane, Cole Swindell, Jon Pardi, Kelsea Ballerini, Lee Brice, Luke Bryan, Miranda Lambert, Pitbull, Tim Mcgraw. Check full line-up here: https://www.festivall-app.com/festivals/tortuga
Tickets: https://bit.ly/3aL81S2